Company History
Developing Breakthrough Abrasion Resistant Coatings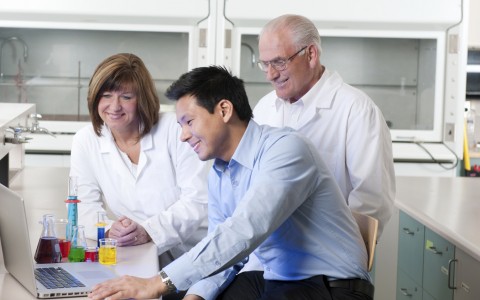 37 Years of Entrepreneurial Product Innovation
Our Evolution
SDC Technologies, Inc. (SDC) was established in 1986 as a joint venture between Swedlow Coatings Inc. and Dow Corning Enterprises, Inc. The company's strategy was to develop and market abrasion resistant coating technologies for a variety of commercial and aerospace applications.
In 1988 SDC partnered with Nippon Sheet Glass in Japan to embrace business opportunities throughout Asia. In 1990 we expanded into the European market with investment in product distribution, marketing and technical resources. SDC's investment in technology development continued in support of core markets and emerging customer applications. The company maintains an extensive patent portfolio accompanied by strong sales growth as a result of this investment.
By 1996, SDC developed a wide range of abrasion resistant coating products for use on a variety of materials including plastics such as polycarbonate and acrylic, lens casting resins, glass and non-ferrous metals including aluminum. In 2008 SDC relocated and expanded headquarter manufacturing operations from Anaheim to Irvine, California. In 2013, SDC further expanded global operations with a new Singapore office to increase manufacturing capabilities, supply chain management, sales, customer care, and quality assurance for the Asia-Pacific region.
Strategic Acquisitions
In 2008 Mitsui Chemicals, Inc. acquired SDC. Mitsui Chemicals is the leading manufacturer and supplier of value-added specialty chemicals, plastics and performance materials for multiple industries including agriculture, automotive, building and civil engineering, electronics, energy, healthcare and packaging. MCI has more than 30 years' experience in the development and production of innovative premium high-index optical lens materials under the MR™ Series brand name (MR-8™, MR-7™, MR-10™, MR-174™ ).
In 2010 SDC acquired FSI Coating Technologies, formerly Film Specialties, Inc. which was also founded in 1986 to develop and market anti-fog scratch resistant hard coating, film and sheet products for commercial and industrial markets. A pioneering champion of condensation control material science, FSICT provides solutions to the automotive, commercial refrigeration, electronics, medical, safety, security, sunglass and sports eyewear industries.
In 2011 parent company Mitsui Chemicals (MCI) acquired Acomon AG, globally recognized for its lower indexed optical monomers RAV 7™ used to provide exceptional clarity and durability. The comprehensive portfolio of MCI's MR Series premium high-index, and Acomon's RAV 7™ and low index optical lens materials combined with SDC innovative coatings allows us to deliver a complete product solution to the ophthalmic community.
In 2013 parent MCI acquired KOC Solutions Co. Ltd. (KOC), currently known as "ML Tech", a leading Korean and now also China-based manufacturer and distributor of plastic optical lenses monomers to expand worldwide sales of its competitive edge in the mid and high-index lens market. The globally recognized product range includes mid and high-index, photochromic as well as impact resistant lenses. This acquisition also provides opportunities for expansion in the growing Chinese market through the manufacturing and sales sites located in areas where China's optical related businesses are concentrated.
In 2014 SDC purchased a majority ownership of Lens Technology I, LLC (LTI) strengthening its advanced technology global expansion in high performance abrasion resistant coating solutions. In 2015, the company was renamed LTI Coating Technologies, LLC.  LTI is the recognized leader in the development and manufacture of high performance, proprietary UV curable anti-scratch coatings for the ophthalmic market. LTI was formed in 1986 to address the optical industry's requirement for hard and tintable coatings for plastic and polycarbonate lenses. LTI is a world leader in ophthalmic hard coatings and has received Awards of Excellence from the Optical Laboratories Association for best in class coating equipment. In 2017 SDC completed the acquisition and merger with LTI.  The integration and complementary synergy of the two companies is a natural fit, unifying leaders in both thermal and sustainable UV cure coatings under one organization.
In 2020 SDC acquired COTEC GmbH thin film and coatings technology company. Founded in 1997 in Germany, COTEC® is an innovative developer of quality PVD finishing materials and CVD thin film applications. COTEC also provides anti-reflective, hydrophobic, oleophobic coatings for automotive, ophthalmic, precision optics, and photonic displays for industrial and consumer markets. Integrating COTEC coating technologies combined with SDC to strategically address the ophthalmic market as a total solution lens fabricator, providing coatings into all layers of the complete eyewear lens coating stack. Starting with SDC's CrystalCoat® top layer best-in-class abrasion resistant hard coat, to COTEC's anti-reflective coatings and DURALON® brand family of coatings and thin layer film system offering easy-clean finger-print resistance, anti-smudge, and oil/water repellent compatible coatings.
In 2022 SDC acquired Coburn Technologies, Inc. to support its Total Vision Care Solution Business Expansion. Founded in 1954, Coburn Technologies is headquartered in South Windsor, Connecticut and is renowned for serving private eye care practices, optical retail outlets, and lens production labs worldwide.  Coburn is an established innovator in the production, service and support of award-winning, high quality, precision ophthalmic lens processing systems and instruments for the eye care industry.  They design, manufacture, and service, equipment, software, and supplies used in all aspects of surfacing prescriptions in lens blanks, as well as coating and finishing lenses to fit into patient frames. Coburn Technologies has reinvented lens production methods with high-speed automation, machine intelligence, precision, and sustainable coating technologies. They also offer state-of-the-art lines of in-office lens finishing equipment and accurate and reliable diagnostic machines and exam lanes that eye care professionals use to conduct eye examinations.
Our Present Recognition
Over the past 37 years SDC has become recognized as the global leader in premium performance based specialty coating technologies and has distinguished itself with a sustainable technology platform, world-class operations, and exceptional customer relationships.
Our Future Goals
Our future strategic business goals are to continually develop new and innovative coating technologies for an ever expanding global environment, while broadening the type of industries we serve. By leveraging our dedicated technical support and expert scientific team, we strive to improve the performance of products in multiple industries for decades to come.