Automotive & Transit
Accelerating Durability and Optical Clarity
Every glass or plastic surface that's exposed to damage or wear needs a protective coating.
Get the ideal coating for every application.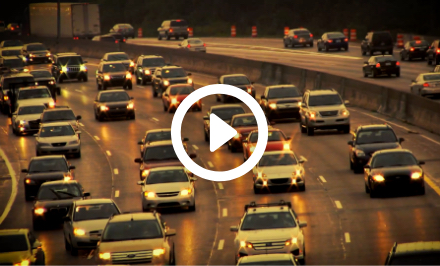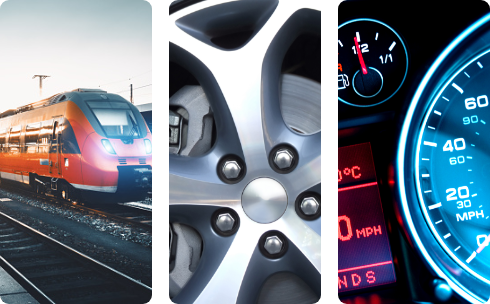 Use SDC coatings to resist abrasion, impact, chemical or UV radiation damage to glass and plastic while maintaining excellent optical clarity. They provide premium weatherability and outdoor durability, and will not discolor with exposure to sunlight.
Our subsidiary COTEC GmbH also offers metallization surface treatments for automotive headlights and reflectors.
Our tailored coatings cover vital parts on all kinds of transportation.
APPLICATIONS FOR ALL VEHICLE COMPONENTS
Our innovative, patented transportation vehicle applications include all exposed surfaces in cars, trucks, motorcycles, planes, boats, trains, buses, and motor coaches.
Vehicle Parts:
Windows, side mirrors and camera systems, windshields and windscreens; canopies, lights, sun/moon roofs, cockpit instrument clusters, panel displays, and gauges.
Electronics:
Digital cockpit instruments, panel displays, and gauges, Head-Up Displays (HUD), GPS navigation devices and systems, LED lighting.
CRYSTALCOAT® FOR MULTIPLE SURFACES
Our optically clear, premium CrystalCoat multi-purpose surface glazing treatments and weatherable coating system increase the durability of enclosed shelters for trains, trams, taxis, and bus stops.
ANTI-FOG APPLICATIONS
Our subsidiary, FSI Coating Technologies, also offers a wide range of complementary anti-fog coating and film solutions for automotive and transit applications.
Solutions for all substrates
Glass: insulated, laminated, safety, security, or specialty bulletproof and tinted
Polycarbonate, acrylic and other plastics, with primer-free adhesion (best-in-class abrasion resistance for polycarbonate substrates)
Aluminum and other non-ferrous metals
Manufacturing advantages
Excellent resistance to abrasion, impact and chemical damage
Premium weatherability and outdoor durability
Protection against UV radiation preserves exceptional optical clarity with no discoloration due to exposure to sunlight and saves energy through lower temperature variance requirements for heating and cooling
Available in thermal and UV-cure, for dip and flow applications
Functional benefits
May be cleaned with common household ammonia-free glass cleaner
Resistant to oil, dirt, and corrosion, eliminating the need to polish chrome finishes
Exceptional product quality and stability, streamlining and maximizing product yields by reducing the need for frequent tank change-outs
QUESTIONS?
Our senior chemists and technical support staff are dedicated to supporting all your coating and process needs.
PRODUCT FINDER
Find the right coating product for your application needs by searching our product catalog.