Augmented, Virtual & Mixed Reality
Exceptional Clarity and Performance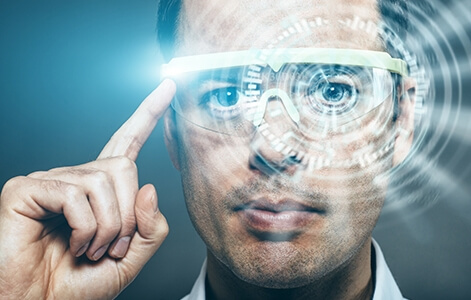 A Digital World with Unlimited Possibilities
The technology landscape is continually evolving to simplify everyday decisions, creating endless possibilities and solutions. New applications are constantly emerging from nearly every industry, urging companies to develop their own AR/VR/MR strategy with an implementation, procurement, adoption, and training plan to maximize their investment value.
SDC offers optically clear thermal and UV-cure hard coatings with premium abrasion resistance for augmented/virtual reality glasses and headsets.  Suitable for dip, flow, spin or spray applications, our solutions are UV resistant; they will not haze or discolor with exposure to sunlight. They are also resistant to oil, dirt, and corrosion and are easy-to-clean and maintain with common household ammonia-free glass cleaners. These coatings have good adhesion to plastic (acrylic, COP and PC) substrates and are compatible with mirror and AR treatments.
Our subsidiary COTEC GmbH also offers coatings with easy to clean properties as well as hydrophobic and weather resistant protective features for special AR/VR applications used for a variety of industries. Additionally, COTEC supplies standard coating materials for optics applications industries such as high purity optical filter materials.
Click here to download the following:
CrystalCoat-for-AR-VR-MR-Highlights
CrystalCoat-for-AR-VR-MR-Applications-Case-Study
Coatings for Glasses, Headsets, Head-Mounted Displays (HMD), and Electronic Devices
SDC and its subsidiary companies' offer a wide range of high-performance thermal and UV-cure coatings to improve product durability and longevity of electronic devices.
Partnership Dedicated to Excellence and Sustainability
Our Trusted Advisor Program mission is to partner and work with our customers as an extension of their team. SDC's scientists, technical support, sales, customer care and manufacturing teams work together to deliver unique coating solutions for each of our customers.  Contact a Customer Care specialist to discuss a formulation that is best suited to your application needs.
CrystalCoat® is a registered trademark of SDC Technologies, Inc.