Military & Security
Uncompromising Visual Clarity and Product Durability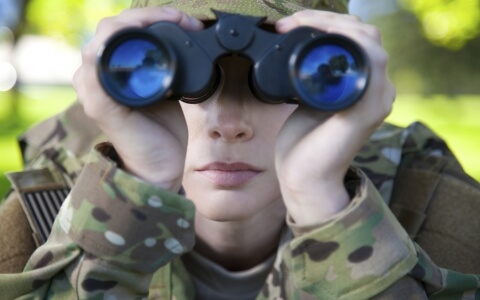 Military & Security
SDC's CrystalCoat™ coatings deliver uncompromising visual clarity that is imperative to military, defense, and security applications. Premium multi-purpose abrasion, chemical, impact and scratch resistance features also provide protection for bullet or shatter proof security glass. Our subsidiary FSI Coating Technologies also offers a wide range of complementary anti-fog coating and film solutions for the military and security industry.
Substrates
Glass: laminated, safety, security, tempered bullet proof and tinted
Acrylic
CR-39® & RAV 7®
High-Index substrates such as MR™ Series MR-8™, MR-7™, MR-10™ & MR-174™, lighter and thinner lenses designed for those who require strong prescriptions
Polycarbonate (PC)
Polyamide (PA or Optical Nylon)
RAVolution® & Trivex®
Applications
Protective eyewear such as face shields, masks, goggles, visors.
Optical equipment such as binoculars, rifle, night and laser scopes & surveillance cameras.
Aircraft canopies, cabin windows, cockpits and instrument clusters.
Military tank and security vehicle windows, windshields, instrument gauges and guidance systems.





Features
Exceptional optical clarity for 100% visibility.
Index-matching and flexibility.
Primer-free options available for adhesion to polycarbonate and acrylic substrates.
Available in thermal and UV-cure, for dip and flow application.
Highly durable, abrasion, chemical, fog, impact, scratch and UV resistance.
Cures at low temperatures, resistant to ink ghosting.
Tintable permeable, fast tinting and color-fast, suitable for photochromic and polarized sunglasses.
Good steel wool and caustic resistance from chemical attack.
Benefits – Value Proposition
Excellent environmental durability including QUV.
Meets or exceeds many safety standards for abrasion and UV resistance.
Highly versatile, compatible with anti-reflective, mirror and metallizing treatments.
Rapid tinting combined with excellent abrasion and chemical resistance for a variety of substrates.
Weatherable, will not discolor when exposed to sunlight.
Delivers premium Bayer results.
Good refractive index-match with hard resin lenses.
Exceptional product quality and stability, reducing the need for frequent tank change-outs, streamlining and maximizing product yields.