Architectural & Building
Enhancing Durability and Optical Clarity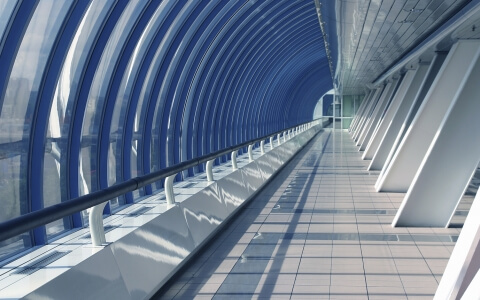 Architectural & Building
SDC Technologies offers optically clear thermal and UV-cure hard coatings with premium abrasion and chemical resistance for a variety of architectural and building materials.  Applications include  doors, staircases, counter tops, furniture such as tables and chairs, decorative and etched glass walls and partitions, storefronts to outdoor digital signage installations.
Substrates
Aluminum and other non-ferrous metals
Ceramics and decorative tile
Glass: insulated, laminated, safety, security or specialty bullet proof and tinted glass
Polycarbonate, acrylic, and other clear plastics
Hardwood, plywood, composite panels, medium density fiberboard (MDF), oriented strandboard (OSB), particleboard, laminated woods, and Masonite®
Applications
Architectural: covered walkways, balconies and railings, staircases and canopies
Building Supplies: doors, windows, wall partition dividers
Home Improvement: kitchen counters, cabinets, deck patio/porches, flooring
Furniture: tables, chairs, lighting fixtures, chandeliers
Features
Exceptional optical clarity.
Excellent abrasion and chemical resistance.
Primer-free adhesion to polycarbonate, acrylic, and metal substrates.
Tintable and printable surface.
Solvent and solvent-free (100% Solids) coating options.
Available in UV-cure for dip and flow coat application.
Benefits – Value Proposition
May be cleaned with common household ammonia-free glass cleaners.
Highly durable, resistant to scratches and chemical attack.
Compatible with anti-reflective (A/R), mirror and metalizing treatments and adhesives.
Exceptional product stability and performance.