Architectural & Building
Enhancing Optical Clarity and Long-Term Durability
Every surface, inside and outside, needs protection against damage, wear, and discoloration, year after year damage or wear needs a protective coating.
Enhance every surface's clarity, durability, and weatherability over time.
SDC energy-efficient and sustainable UV-cure, solvent and solvent-free (100% solids) coatings protect against abrasion and chemical damage.
We also manufacture transparent and translucent colored coatings for decorative glass used with etching and engraving.
Our solutions are UV resistant; they will not haze or discolor with exposure to sunlight. They are easy to clean, and they help conserve energy, as protection from ultraviolet rays results in lower temperature variances required for heating and cooling.
Our subsidiary COTEC GmbH also offers solar and thermal control large area surface coatings for energy and heat efficiency on building exterior facades.
We provide coatings for all surfaces, inside and out.
SOLUTIONS FOR EXTERIOR AND INTERIOR APPLICATIONS
Architectural:
Covered walkways, balconies, and railings, staircases, and canopies
Building Supplies:
Doors, windows, and wall partition dividers
Home Improvement:
Kitchen counters, cabinets, deck patio/porches, and flooring
Furniture:
Tables, chairs, lighting fixtures, and chandeliers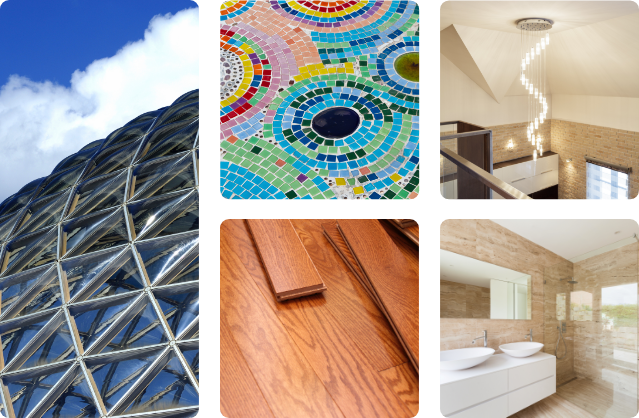 Solutions for all substrates
Aluminum and other non-ferrous metals
Ceramics and decorative tile
Glass: insulated, safety, security or specialty bulletproof and tinted
Polycarbonate, acrylic, and other clear plastics
Hardwood, plywood, composite panels, medium-density fiberboard (MDF), oriented strand board (OSB), particleboard, laminated woods, and Masonite®
Manufacturing advantages
Exceptional product stability and performance
Primer-free adhesion to polycarbonate, acrylic and metal substrates
Tintable and printable surfaces
Solvent and solvent-free (100% solids) coating options
Available in thermal and UV-cure for dip and flow applications
Compatible with anti-reflective (A/R), mirror and metalizing treatments and adhesives
Functional benefits
Excellent abrasion and chemical resistance
Energy conservation, as protection from ultraviolet rays, results in lower temperature variances required for heating and cooling
Ease of cleaning and maintenance using common household ammonia-free glass cleaners
Questions?
Our senior chemists and technical support staff are dedicated to supporting all your coating and process needs.
Product Finder
Find the right coating product for your application needs by searching our product catalog.