Optics Applications
Exceptional Product Durability and Visual Clarity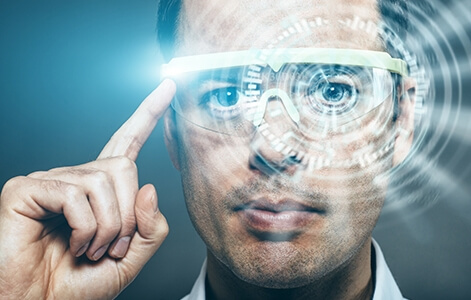 Multi-Industry Optics Applications
SDC Technologies, Inc. (SDC) offers optically clear thermal and UV-cure hard coatings with premium abrasion and chemical resistance for optics.  A variety of optical coating solution applications for air, ground, sea and space are available for an array of industries such as security cameras, augmented and virtual reality goggles, HUD display panels, domes  for self-driving cars to architectural indoor LED lighting. SDC Optics Applications Video.
Substrates
Acrylic (PMMA) – very hard, good mechanical stability, clarity and excellent transmission properties
Cyclic Olefin Copolymer (COC) – trade name APEL, with 1.54 index and 56 Abbe value. CrystalCoat on APEL
Cyclic Olefin Copolymer (COP) – low birefringence optical polymer
Polycarbonate (PC) – high impact resistance, performs well over a wide range of temperature
Applications
Aerospace avionics: communication, navigation and display multi-systems
Aircraft precision optical assemblies and optronics solutions (digital vision systems, wearable displays, surveillance sensors)
Architectural indoor LED lighting, solar concentrators and panels
Augmented reality (AR) glasses, and virtual reality (VR) googles for gaming and simulation training
Automotive lighting: interior, head /tail, backup cameras, sensors
Camera Lens: back-up and side driving mirror, security, domes for self-driving cars
Commercial scanner/print-head, barcode reader, semiconductor inspection equipment
Heads-up Display (HUD) transparent panels for GPS
Medical diagnostic imaging devices, endoscopes, head mounted optics, plastic optical lens for microscopes
Military & Defense Helmet Mounted Display System (HMDS), night vision and guidance systems
Features
Abrasion, chemical and scratch resistant
Good adhesion to plastic substrates
Compatible with mirror and anti-reflective (A/R) coating
Suitable for dip, flow, spin or spray application
Thermal or UV cure, primer and primerless (primer-free) coating options
Transparent, exceptional optical clarity
Weatherability
Benefits – Value Proposition
Easy to clean and maintain, resistance to oil, dirt and corrosion
Energy conservation, protection from ultraviolet rays results in lower temperature variances required for heating and cooling
May be cleaned with common household ammonia-free glass cleaners
Optically clear for safer navigation visibility, will not haze or discolor with exposure to sunlight
Highly durable, resistant to scratches, mars, and chemical attack
Versatile, compatible with A/R, mirror treatments
Exceptional product quality and stability, reducing the need for frequent tank change-outs, streamlining and maximizing yields
Outdoor durability, premium UV protection and weatherability
Contact a Customer Care Specialist to discuss a formulation that is best suited for your requirements.
APEL™ Cyclo Olefin Copolymer (COC) is a trademark of Mitsui Chemicals America, Inc.