Photochromic Coatings
Light Reactive High-Performance Clarity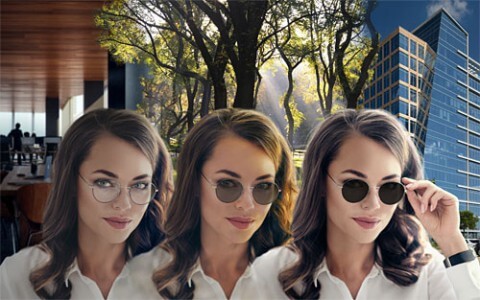 CrystalChrome® Clear Indoor, Dark Outdoor at Exceptional Speed
SDC's CrystalChome Product suite is one of the best photochromic coatings on the market, designed to provide comfort and protection from harmful UV light.  These coatings offer exceptional adhesion to multiple substrates, capable of performing in the most diverse climates. CrystalChrome can be easily integrated into your dip coating operations, capable of meeting your dynamic production needs regardless of lens material, lens design, and type of anti-reflective (A/R) lens treatments. Choose from our suite of Gray and Brown versions for the best solution to fit your application.
FEATURES
Exceptional Optical Clarity
Fast Darkening and Fading Speeds
Suitable for All Lens Materials
Dip or Spin Coat Thermal Cure Process
Compatible with Anti-Reflective and Metalizing Treatments
PRODUCTION BENEFITS
Can be easily integrated into existing coating process, streamlining manufacturing, enhancing yields and profitability
Manufactured under stringent ISO 9001:2015 quality standards, enhancing coating performance
Long product service life reduces the need for frequent tank change-outs
Access to SDC's global technical support team for your product validation and application requirements
AVAILABLE OPTIONS
Primer and Primerless (primer-free)
Suitable for Gray and Brown Photochromic Colors
CrystalChrome Ultra with enhanced photochromic speeds
CrystalChrome® Product Highlights
SDC has an entire suite of Photochromic coatings available. Contact a Customer Care specialist to discuss a formulation that is bested suited to your application needs.
CrystalChrome® is a registered trademark of SDC Technologies, Inc.