Marine & Watercraft
Accelerating Durability & High Performance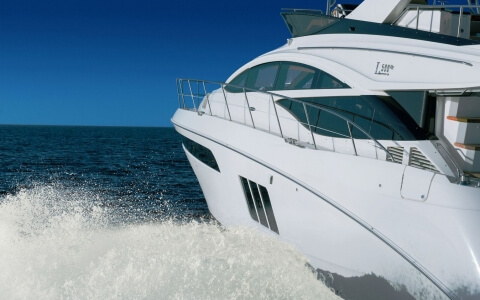 Marine & Watercraft Applications
SDC's optically clear, premium CrystalCoat™ multi-purpose surface glazing treatments and weatherable coating system improves the durability of boating and marine parts and accessories.  Our innovative patented high performance marine coatings improve the appearance and increase the service life of your vessel; applications include windshields, boat decks and hullside windows as well as navigation systems. Our subsidiary FSI Coating Technologies also offers a wide range of complementary anti-fog coating and film solutions for marine applications. SDC Marine and Watercraft Applications Video.
Customer Success Story for Boat Windshields and Windows: AcryliCo Races Ahead with CrystalCoat MP-100
Substrates
Acrylic (PMMA) known by popular brand names such as Acrylite®, Lucite®, Plexiglas®, and Perspex®
Polycarbonate known by popular brand names such as Lexan® and Makrolon®
Applications
Electronics: Panel and Heads-up Displays (HUD), LED lighting
Hullside and boat deck windows, windshields, and windscreens
Navigation: GPS navigation systems, cockpit instrument clusters and gauges
Features
Exceptional optical clarity for safer driving and navigation.
Premium weatherability and outdoor durability, will not discolor with exposure to sunlight.
Excellent resistance to abrasion, chemicals, impact, and UV radiation.
Hydrophilic, water sheeting anti-fog properties and water washable (permanent)
Primer-free adhesion to polycarbonate and acrylic substrates.
Available in thermal and UV-cure, for dip and flow applications.
Benefits—Value Proposition
Energy conservation, protection from ultraviolet rays results in lower temperature variances required for heating and cooling.
Protection from cleaning agents, chemical and fuel spills
Easy to clean and maintain, resistance to oil, dirt and corrosion.
May be cleaned with common household ammonia-free glass cleaners.
Optically clear, enabling safer driving and navigation; will not haze or discolor with exposure to sunlight.
Highly durable, resistant to scratches, mars, and chemical attack.
Versatile, compatible with anti-reflective, mirror and metalizing treatments.
Water repellant—water beads off with the added bonus of being scratch resistant
Delivers best-in-class abrasion resistance to polycarbonate substrates.
Excellent outdoor durability, premium UV protection and premium weatherability.
Exceptional product quality and stability.
Contact a Customer Care Specialist to discuss a formulation that is best suited for your requirements.
Acrylite® is a registered trademark of Evonik
CrystalCoat™ is a trademark of SDC Technologies, Inc.
Lexan® is a registered trademark of SABIC
Lucite® is a registered trademark of E. I. Du Pont De Nemours and Company
Perpex® is a registered trademark of Lucite International, a member of the Mitsubishi Rayon Group
Plexiglas® is a registered trademark of Avonik, Arkema