Electronics & Display Technology
Advancing Durability and Clarity
With virtually all of everyday life depending on displays, their ability to withstand everything from hands to hurricanes is more critical than ever.
Enable every screen and lens to perform as designed.
SDC optically clear, premium multi-purpose surface treatments and weatherable coating solutions improve the durability of electronics with resistance to abrasion, impact, chemical, and UV radiation damage, and will not discolor when exposed to sunlight.
Our subsidiary, FSI Coating Technologies, also offers a wide range of complementary anti-fog coating and film solutions for the electronics industry.
DURALON® coatings offered by our subsidiary COTEC GmbH also offer fingerprint and smudge resistance features to enhance the functionality of electronic displays.
We provide optimal protection
for devices of all sizes and types.
SOLUTIONS FOR ALL SCREENS AND LENSES
Smartphones, tablets, notebooks
Computer monitors and laptops
TV monitors including HUD, FPD (Flat Panel Display), LED, LCD, and plasma screens, and OLED
Touch screens – navigation/infotainment displays and kiosks
Electronic control panels, appliances, and handheld devices
Cameras and watches
Digital outdoor billboard signage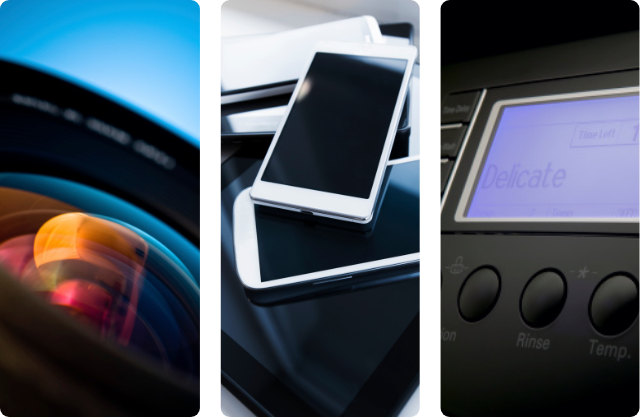 Solutions for all substrates
Electronic or smart glass
Polycarbonate, acrylic, polymers and other plastics
Ferrous and non-ferrous metals
Manufacturing advantages
Available in thermal and UV-cure for dip and flow application
Versatile – compatible with anti-reflective (A/R), mirror and metalizing treatments
Exceptional quality and stability, reducing the need for frequent tank change-outs, to streamline and maximize product yields
Functional benefits
Ease of cleaning and maintenance using common household ammonia-free glass cleaners
Resistance to oil, dirt, and chemicals
QUESTIONS?
Our senior chemists and technical support staff are dedicated to supporting all your coating and process needs.
PRODUCT FINDER
Find the right coating product for your application needs by searching our product catalog.